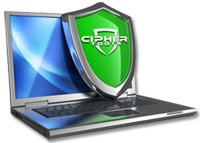 CipherTooth is a superior system for delivering secure content over the Internet. This is a bold statement but we can back it up. Our education page has links to articles and speeches given by security experts detailing the vulnerabilities of the current HTTPS certificate-based system.
Click here to read the details and watch a video of CipherTooth in action.
CipherTooth's unique methodology allows it to detect Man in the Middle (MItM) attacks in real time. We keep all the good stuff and get rid of the weaknesses in HTTPS. CipherTooth can even run over the top of HTTPS, works well with Multi Factor Authentication, and when a site is constructed correctly, eliminates MItM, Phishing and Spoofing attacks.
CipherTooth is a start up company with a patent pending technology to alert and protect customers from Man in the Middle, Phishing, Spoofing or similar attacks and alerts you when it's happening. CipherTooth is a one of a kind patent pending Internet security software.

People are losing millions (collectively) to hackers who are using these preventable techniques and steal. CipherTooth can stop them cold.

For more information on our products, as well as information on pricing, please contact us at Sales@CipherTooth.com. CipherTooth is located in American Fork, Utah.